Lush Life
Game(s)
Just Dance 2018
Artist
Zara Larsson
Year
2016
Difficulty
Effort
No. of Gold Moves
3
No. of Shake Moves
Dancer Gender(s)

♀

Mash-Up
Alternate versions
Mode
Solo
Pictogram Color
Seahorse Blue
Glove Color
Caribbean Green
Lyrics Color
Light Blue
[Source]
"Lush Life" by Zara Larsson is featured on Just Dance 2018.
Appearance of the Dancer
Edit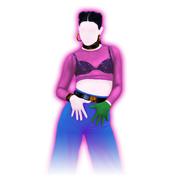 The dancer is a woman that has two dark purple braids and wearing a pink transparent long-sleeved shirt which shows a portion of her stomach, a dark purple bra under it, a pair of turquoise pants, a black belt with a gold buckle and a pair of black shoes.
Background
Edit
The background starts off with the dancer completely in black until the chord begins that shows a black circle in the middle behind the dancer with sprinkle decorations. As each verse is sung the circle in the middle pumps to the beat of the song and spreads more circle outlines eventually growing until it completely covers the white background. When the line "Tell me I'm too crazy" is sung gray lines cover up the background behind the dancer one by one until it's completely covered. Then as the chorus starts the lines slowly go away and as the dancer punches right and left the gray circles behind her turn into a variety of colors such as blue, green, blue and purple, etc... which also turns as she dances. When "Mwah" or when she blows a kiss a colorful X appears behind the dancer. During the bridge the circle is now purple which sends beating black circles and as the line "Tell me I'm too crazy" the gray lines once again cover up the background one by one until "Hey" is said everything turns white until the line "Mwah" is said the colorful X appears as she blows a kiss.
Gold Moves
Edit
There are 3 Gold Moves in this routine.
All Gold Moves: Blow a kiss. The third gold move is the last move of the routine.
In the UK preview the dancer is seen with a darker glove color and a slightly darker color scheme.
The coach has similar hair of the coach from Cheap Thrills.
In both the US and UK preview of the gameplay, the only scoring marks that appear are "OK" and "GOOD".
Right before the song begins, there is a sparkling sound.
Game Files
Edit
Gameplay
Edit
Official Music Video
Edit
References
Edit
es:Blow Your Mind (Mwah)