Holla At The DJ
Game(s)
Just Dance College Ruled
Just Dance Now
Artist
Coco Jones
Year
2013
Difficulty
Medium
Effort
No. of Gold Moves
6
No. of Shake Moves
Dancer Gender(s)
Mash-Up
Alternate versions
Seated Dance (Not Available for Just Dance Now)
Mode
Solo
Pictogram Color
Light Blue (JDCR)
Light Green (JDNOW)
Glove Color
Purple (JDCR)
Orange (JDNOW)
Lyrics Color
[Source]
"Holla at a DJ" by Coco Jones will be featured in Just Dance College Ruled.

The dancer is a female, It is looks like Katerina Kittykat.
Just Dance Now Version
Edit
She has a New Look, Blue Dress, Blue Bow, and Blue Shoes.
Background
Edit
Recycled as Party Rock Anthem (Just Dance 3)
College Ruled 1/3/4/Just Dance Now Version
Edit
The background was very dark blank room with too many stuff and Real life outside (Similar as I Was Made for Lovin' You).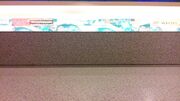 Dancers (no repeats):
Holla At The DJ (JD:CR)
Let's Go to The Mall (JD3)
So What (JD4)
What You Waiting For (JD3)
Only Girl (In the World) (JD3)
Satellite (JD3 PAL)
Want U Back (JD4)
Futebol Crazy (JD2)
TiK ToK (JD2)
Love You Like a Love Song (JD4)
You Spin Me Round (Like a Record) (JD2015)
Starships (JD2014)
I Kissed a Girl (JD2014)
Firework (JD2)
Talk That Talk (JDCR)
Disturbia (JD4)
On the Floor (JD4)
Can't Take My Eyes of You (Alternate) (JD4)
Take On Me (JD3)
Maria (Sweat) (JD2014)
Party Rock Anthem (JD3)
Party Rock Anthem (JD3)
Maria (Sweat) (JD2014)
Holla The DJ (JDCR)
In the Party Master Mode, The Classic dancer appears. Here are the captions attributed to the dance moves.
Ballerina Twist
DJ Queen
Pump Up the Love
Mrs. Pussycat
Henrietta Pussycat
Human Benefits
Girl in the U.S.A.
Can You Love Me
Appears in the Mashup
Edit
Holla At The DJ appears in the following mashup
Party Master Mode
Edit
Holla At The DJ
Holla At The DJ
Community Remix
Edit
Contest is in
Icekingfan
xhappyQUEENx
Just Dancer
Hmate57
Tulioakar96
Lola's Studio
Kelvin Jaeder Games
Chyavion10Bunkey
Female in "Problem" Outfit (Just Dancer)
Male in "U Can't Touch This" Outfit (Just Dancer)
FaTCaT
Female in "Funhouse" Outfit (Just Dancer)
Coolharry64 Or Harryjonbond
On Seated Dance It's hard to get 5 Stars in the Wii, PS3, and Wii U.
The classic mode is very "sleazy", Like Ke$ha did.
This classic dancer appears lots of mashup and party master mode.
The classic dancer spins around.
On the mashup, Can't Take My Eyes of You (Alternate), Take On Me, and Party Rock Anthem are only males.
This is the first and only Coco Jones in the game.
This song is from Shake It Up as the Egyptian Dance
This is one of the second routines in the main series to contain the dancer sliding to the other side of the screen, First is Love Me Again.
In the mashup, Katerina appered in Love Don't Cost a Thing, Clint Eastwood, Wrong Side of Heaven, Open Your Heart, and Curiosity.
This is a only song that the dancer has a name.
The size of the dancer looks like Kids in America.
The Seat Dance Routine was confirmed in Just Dance College Ruled.
The Dancer looks like The 2nd Dancer from This Don't Impress Me Much.
She says: If you get 5* Stars, you can get a "Hi Meow Meow!" Achievement.
She is a Ex-Girlfriend on him, Will added on Ex Girlfriend mashup themed ("Payphone," "Whoomp (There It Is)," and "Wasted")
This is a only song that dancer said "Meow-Meow" on it.
Gold Moves
Edit
Gold Move 1, 3, 5: Throw your hands in the air
Gold Move 2, 4, 6: Kick left then right
Ad blocker interference detected!
Wikia is a free-to-use site that makes money from advertising. We have a modified experience for viewers using ad blockers

Wikia is not accessible if you've made further modifications. Remove the custom ad blocker rule(s) and the page will load as expected.